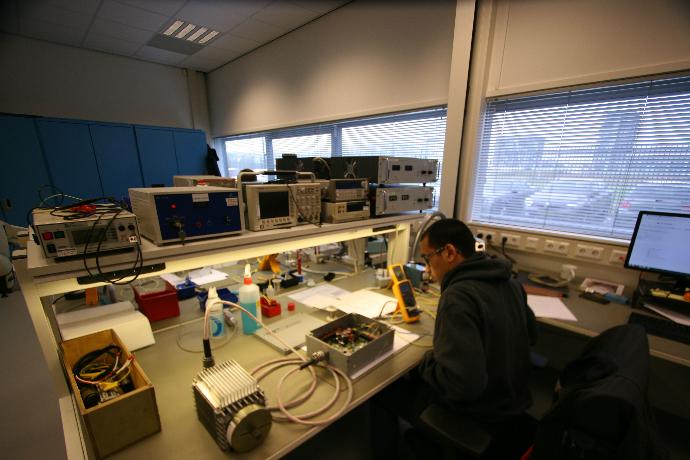 Electronic Repair
Turner Engine Control Solutions owns a complete electronic repair workshop. This includes trained engineers, calibrated test tools, test simulators, software, a comprehensive collection of spare parts and an extensive database of drawings, electrical schematics and test procedures from Woodward.
In our ESD protected workshop, we provide repair, test and conversion services for Woodward analogue and digital controls and electric actuators. In addition our repair engineers are factory trained to repair SMD and true hole boards at component level.
In case of an emergency and when time is of the essence we can offer you an exchange electronic control from our extensive exchange stock.
The following videos are examples of the electronic repairs we can perform:
We repair all analog and digital Woodward controls, including old or obsolete units, contact us for our possibilities.
Electronic Control Repair Procedure
Visual inspection of the unit.

Check control according manufacture test specifications (TSP).

PCB component analysis in case of failure.

Verify for hardware modifications / reworks and software upgrades.

Create repair / inspection report accompanied by pictures.

Unit and PCB are thoroughly cleaned.

Replace defective component(s) with original manufacturer parts and perform upgrade(s) if required.

Complete unit test according manufacture specifications with calibrated test tools and engine simulator.

Packing and shipping the unit with repair report and test certificate.

All interactions with the electronic controls take place in our ESD safe work shop.
MicroNet/Netcon Validation Program
Turner ECS signed a contract with Woodward to validate and test MicroNet and Netcon chassis and cards. This program provides you with a clean and quick way to have your installed and spare Woodward MicroNet and Netcon modules re-tested to verify general compliance with original factory specifications.
The program will maintain a qualified MicroNet Test System that is capable of running final test routines on virtually all Woodward MicroNet modules.
Modules will be returned to you with a test sheet that shows the recorded data and test results.
Cleaning of chassis, cards and replacing ventilators are part of this service.
See Woodward Application note 51426 for more details: MicroNet Module Validation Program
Electric Actuators
Turner ECS offers a comprehensive actuator repair and overhaul service for all Woodward actuators:
ProAct GEN 1 model I, II, III, IV and V

ProAct ISC (Integrated Speed Control)

ProAct P-Series

EPG actuator
We advise our customers to perform regular maintenance at the scheduled overhaul time of the prime mover(s).
Avoiding unnecessary wear and therefore eventually higher repair costs, regular overhaul is advisable to keep the actuator in good-as-new condition.